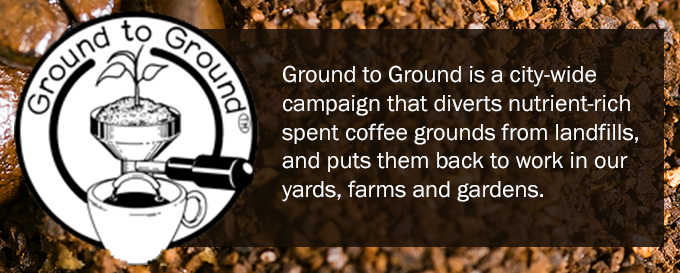 Simple. Sustainable. Community-driven.  Ground to Ground reduces waste, builds our soil, and strengthens local business. Participating is easy: Ground to Ground businesses provide free grounds to customers in bags, buckets, or bins.  Just ask how to get grounds at the counter.  And take all you can carry!
Find out why we should put coffee grounds into our soils and not into the landfill by clicking here.
Ways to support Ground to Ground:
Collect grounds (and a hot cup of joe!) at one of our participating businesses. Use them in your own garden, or take them to a drop-off location.  See map for current locations.
Help us expand the network in your neighborhood!  Tell us about a coffee shop, restaurant, office, or other source  that you would like to see participating.
Become a "captain". You support a new source by picking up grounds at least once a week until the program is established and encourage friends and neighbors to do the same.
Promote Ground to Ground through social media, newsletters, word of mouth.
Educate others about the benefits of coffee grounds and composting.
If you are a business, join Ground to Ground today.   Take a look at our Ground to Ground Business Brochure.
Want more than just coffee grounds?  Check out all the materials available and drop spots for materials you aren't composting at home
Browns              Greens              Coffee grounds             Mixed             Drop spots
For more great information on using coffee grounds and to find grounds in Australia, check out the original Ground to Ground site.